I am honored and truly humbled to be featured today at the wonderful blog
When the Kids Are Bored
(WTKAB). Please read it
HERE
. Heather at WTKAB has been a great example to me when it comes to positive blogging. When she approached me about doing a guest post for her site, I was so nervous and excited--just because this is all so new to me and she has such a great blog! But it has turned out to be an awesome experience. Heather has been gracious and kind in every way. I am so thankful for helpful blogging friends who help me learn the ropes. I hope my story and my little posts help someone out there. My goal with this blog is the make a positive difference in my own corner of the world--even if it helps just ONE person out there.
Please check out her site!
When The Kids Are Bored
is fun site full of ideas for kids, recipes, giveaways, funny stories, and mommy sanity. THANK YOU HEATHER!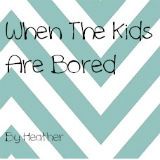 Tomorrow my actual article
Surviving Sentimental Sadness
will be published on her site. I hope you'll read it and see how I try to conquer the sadness of change in life.
I APPRECIATE EVERY READER! SO THANKFUL FOR EACH ONE OF YOU.